June 29, 2018, The Garden trailhead
Big Slide (#12) via the Brothers
I arrived at the Garden Trailhead around 5 am on what was to be a very hot and humid Friday in late June.  The Garden is infamous for being a small and highly sought-after trailhead, and I was relieved to discover a couple of parking spots remaining when I arrived.  Being just after the summer solstice, the sun was already well on the rise by the time I hit the trail.
My target that morning was Big Slide via the Brothers, throwing in Yard mountain (a non-official high peak) before descending towards JBL and then onwards and upwards to Slant Rock lean-to for the evening.  Although the road to the Garden climbs a few hundred helpful vertical feet, it's still a much lower trailhead than, say, the Loj, at just 1500' above sea level. This meant the day's total vertical would be in excess of 4000'.  What's more I was carrying a full pack complete with tent and bear canister, weighing in around 35 lbs. I hadn't made much of an effort to get the weight down, since part of the purpose of this hike was to help condition myself for summiting Mt Rainier in Washington the following month.
In short order, the trail began to climb onto the ridgeline known as "the Brothers" a series of three rock outcroppings that afforded beautiful views across the John's Brook Valley and toward tomorrow's target—the Great Range.  It was slow work in the heat, and I worked up quite a sweat. The sun had already begun to climb high into the sky on this, one of the longest days of the year. While losing even small batches of vertical is never too much fun, the brothers were nonetheless an improvement over a fully wooded ridgeline… it was nice to break up the climb into a discrete batch of minor goals.  (Not a bad strategy in life either).
From the third brother, I caught a fleeting glimpse of Big Slide's eponymous slide (although it struck me as more of a cliff face than a "slide").  At 4,240 feet above sea level, Big Slide is one of the shorter Adirondack High Peaks. Nevertheless, it's fun to note that it's still about 100' taller than Slide Mountain—the tallest peak in the Catskills and evidently unworthy of the "Big" qualifier.
I wish I took a photo of the slide from the third Brother.  I thought I'd have an even better view as I grew closer to the peak, but sadly that was the last I saw of the slide that day.  Oh well.
Following the third brother, the trail bumbled around in the woods for the next mile or so, descending a bit and then ascending slowly towards the final summit push.  I came to an intersection with the descent path towards John's Brook Lodge, and this marked the final, steep section to the summit. The climb was short but punchy, with some big ladders fortunately in place to help on some of the bare rock portions.
Soon I was standing atop Big Slide, enjoying some Clif bars and soaking in sweeping views of the rugged Great Range: Gothics, Basin, the Wolf Jaws.  Tomorrow's targets presented themselves, lined up in a row, in a slightly daunting fashion.
Yard Mountain, the road less traveled
Having summited my sole official high peak of the day, I pressed onward towards nearby Yard Mountain.  I don't know why Yard is not an official High Peak. Yard is well above 4000', has over 200' of prominence, and is nearly a full mile isolated from Big Slide.  Armstrong, for instance, is both less prominent and less isolated than Yard. But I don't make the rules, so sadly Yard was not going to count as a high peak that day.
The trail past Big Slide's summit along this ridge was far less traveled than the Brother's route.  This meant less eroded, and narrower, as I passed through boreal thicket between the two summits. The path was pleasantly shady and not too rugged.  It was definitely the better route towards JBL.
As I write this post, roughly 18 months removed from this experience, I'm sorry to report I don't remember Yard having any nice views.  This doesn't mean there were no views. It just means they didn't really stick in my mind for that long. So take that as you will.
Losing the Trail
From Yard's summit, the trail descended fast and steep towards Klondike Notch.  The DEC is quite skimpy with their trail markers. In the Hudson Highlands, nearly every fourth tree is blazed, and multiple blazes are used to signal sharp turns in either direction.  In the Adirondacks, it's quite easy to be out of sight of the next trail marker for a good stretch. Sometimes I use the trick of turning around, to spot the last trail marker moving in the opposite direction, just to verify I'm still on the path.
At any rate, the trail from Yard to Klondike notch was not highly trafficked and didn't have a ton of trail markers.  And at one point, I continued down a particularly steep descent, evidently past a sharp turn in the trail, and down a dry streambed into raw wilderness.  I didn't realize until about 100 vertical feet later that I was almost definitely not on the trail. I looked left, right, and down, and there was no obvious path.  I turned left and headed orthogonal to the fall line along what seemed to be the most plausible path. I was relieved to discover someone else had been here and left an article of clothing on a tree, to mark the location.  I decided to bushwack further since eventually, I'd run into Klondike Brook, which at this point was perhaps a half-mile downhill.   
I'd never done a legit bushwack before.  And things began to deteriorate fast. The woods became rapidly denser.  Soon it was a thicket of conifers that turned me around in a new direction.  I kept stumbling and my feet occasionally collapsed into rotten logs and random detritus.  I was wearing shorts and became worried about ticks as I continued to struggle with rotting pits in the uneven ground and thick brush.  After a few more minutes of this, I decided to turn around and try to find the real trail. The problem was, I wasn't entirely sure where I was anymore!
I pulled out my phone and took a few steps, watching the blue dot on google maps, updated with the current GPS location, to figure out if I was even headed back towards the trail.  I, fortunately, had a rather good sense of where I was relative to the trail, so this helped me regain confidence. As luck would have it, I arrived back at the piece of clothing left by a prior lost hiker and breathed a huge sigh of relief.  A few moments later I was back in the dry stream bed where I trudged, begrudgingly, back uphill towards the trail.  
And just like that, I was back on the path, off to Granny's house John's Brook Lodge, with my basket of sweets bear cannister of freeze-dried meals, having said goodbye to the wolf Yard Mountain.
From JBL to Slant Rock
Shortly after my bushwacking adventure, I came to the intersection with the Klondike Notch Trail, following the rushing brook down into the John's Brook Valley under a shady canopy of hardwoods.  This route, along with the Phelp's trail to Slant Rock, had been exactly the one I took, in reverse, on my very first high peaks adventure, after summiting Haystack and heading towards a campsite in Klondike Notch.  I was a little bummed at the lack of novelty for the rest of the day, particularly along the eroded, rocky, not-too-scenic Phelp's trail.
The Phelp's trail, as previously mentioned, is not very fun.  It's a pretty standard washed out, over-traveled Adirondack trail rife with annoying boulders.  It climbs over a thousand feet to Slant Rock, passing a few lean-tos that don't look especially exciting to camp at.  There are no views, and although it passes Bushnell Falls, I've never felt inclined to drop down along that spur to the waterfall, because the cost was more vertical, and honestly how great could those falls be?  Worst of all, the Phelp's trail post-Haystack was my very first death march in the Adirondacks … an experience where you just want to be done with hiking, and yet the trail keeps going and going, downhill, continuing to destroy your feet and legs.
All that said, fresh on my first day of this trip, and glad for shade, the trail wasn't too exhausting or monotonous.  I even came across a beautiful cluster of butterflies.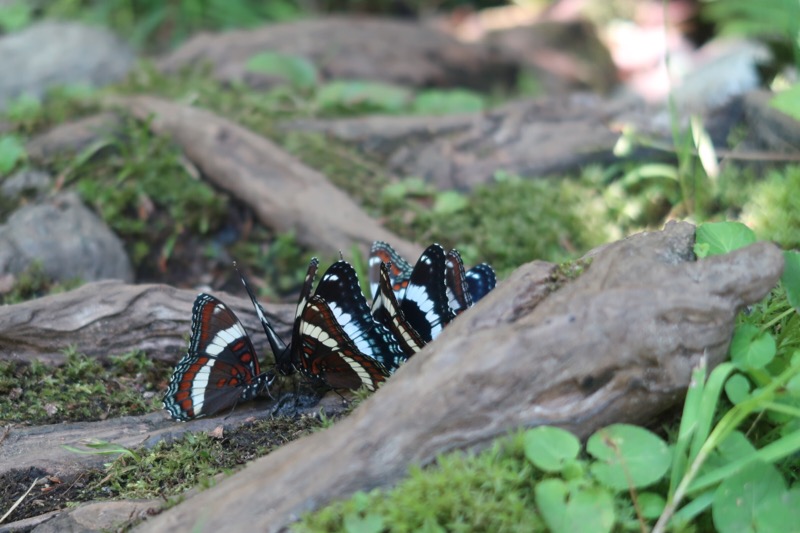 Past Bushnell Falls, as I began to climb towards Slant Rock, I noticed some random bits of gear a hiker had dropped… chapstick, a protein bar, a headlamp!  I picked up each in turn, in case I ran into this person further up the trail.
Eventually, I came to Slant Rock, and there were three folks catching their breath on the boulders around there: an older couple, man and woman, and a younger woman hiking solo who was chatting with them.  She was rather excited and a bit scatterbrained, and the couple had a slight look of confusion and concern on their face. I asked the three of them if the random bits of gear I found on the trail were theirs.  They belonged, unsurprisingly, to the young woman, who was very thankful to have been reunited with the gear. Her pack bad been unzipped and she hadn't realized it until just before I arrived.
We chatted briefly and I discovered she was planning on hiking Haystack that day.  This was a bit odd, in my view, because Haystack was still miles off, a very rugged trail, and it was already nearing 5 pm.  Even on one of the longest days of the year, this seemed to involve a lot of night hiking. More concerning to me, she didn't seem to have a ton of gear on her… she was wearing a very small backpack—perhaps 15 liters—track shorts, and a tank top.  There definitely couldn't have been a good insulating layer in that tiny pack. Even during a heatwave, the tops of mountains are cold at night. Especially when you get tired and stop moving fast.
At any rate, the group dispersed, the couple heading downhill towards JBL, the young woman onwards towards Haystack, and me off the main path to the Slant Rock campsites and lean-to.
Camping at Slant Rock
There are a ton of lean-tos in the High Peaks, and some are a lot nicer than others.  I'm happy to report Slant Rock is one of the absolute best. You cross a small stream (presumably your water source) along big square boulders, and then head up a short spur trail to a prominent clearing where the lean-to provides views of various ridgelines of Basin Mountain.  The northeasterly exposure probably gets excellent morning light. I say probably because I did not camp at the lean-to. There was a pair of women from Quebec when I arrived, and they seemed a bit put off to see another hiker invading their beautiful, secluded lodgings.
My plan ideally was to set up my tent just outside the lean-to—it was still too early in the summer to sleep in the open air, without a layer of mesh between me and the mosquitos.  But for everyone's privacy and comfort, the backup plan came into effect, wherein I would pitch my tent at one of the campsites nearby. So after making use of the privy behind the lean-to, I headed downhill to the campsites, which were more wooded, and set up camp. 
The official policy in the Adirondacks is that lean-tos cannot be reserved or commandeered by any one group, provided there is more space in them. But in practice, you kind of need to read the current occupants to figure out if they're the kind of folks who like hanging around with strangers for a night or two.  In this instance very strong body language told me otherwise.
Slant Rock also has some excellent campsites.  There are rather new tent pads, outlined with large rounded rocks, and filled with gravel to provide good drainage.  There were two in my immediate vicinity, and more I believe nearby. And at roughly 3500' above sea level, this campsite was one of the highest in the park, providing an excellent point of departure for tackling the Great Range.  During a July heatwave, the extra couple thousand feet from Keene Valley was also a very welcome respite from higher temperatures. I slept quite sound that night.
A headlamp in the dead of night
Around 1 or 2 am, I was suddenly awoken by the flash of a headlamp on my tent wall and a voice calling out "hello? Hello? I need help!"  This is a slightly alarming experience, although I imagine not nearly as adrenaline-inducing as a bear encounter. I called back from inside my tent, and the stranger approached.  I unzipped the tent, put on my sneakers, and stood up.
It was the young woman from earlier in the day, now apparently back from the summit of Haystack.  She was shivering, still in just track shorts and a tank top. It was perhaps in the mid-50s Fahrenheit, which lucky for her is notably warm for 3500 feet in the Adirondacks—even in late June.
She told me she was hungry and tired and needed some food—just something to help her regain energy and warmth before getting back to her car.  We were six miles as the crow flies from the nearest parking lot.
I trudged through the woods to my bear canister, swiss army knife in hand, now shivering myself.  I unscrewed the lid and pulled out some protein bars and granola for her. Having been stuck in heavy snow in February once on a hike further downstate, I definitely understood the power of a good protein bar in firing up the internal furnace and providing the energy needed to keep moving.  Food is critical.
But in retrospect, I regret not going further in my hospitality.  I should of told her to get a nap in my sleeping bag. I could of boiled myself some tea, and toughed out an hour or so in the cold, while she regained her strength.  I could of then given her a warm drink before heading off back to her car. But it's complicated. I was a guy alone in the woods with a woman markedly younger than me—one I suspected was somewhat non-neuro-typical.  I guess I could have given her the sleeping bag and sent her uphill to hang out with the Quebecois women in the lean-to.
But instead, I wished her good luck, and gave her a few more snacks, and told her to check in with the ranger down in John's Brook Valley.  The interior outpost was only three miles downhill, as the crow flies.  And I got the impression that this sort of situation was one she had been in repeatedly, just based on the matter of fact way she kept stating "I need help" and then telling me exactly what she needed.
That approach, by the way, is an excellent one.  You should never go out into the wild expecting you can rely on strangers to help you.  But when you need help, definitely ask for it, and don't be at all ashamed to ask for exactly the help you need.  For my part, I was glad to be prepared with more food than I needed—something always recommended on day hikes or definitely on overnights.
Shorey's not-so-short cut
I went back to sleep and got a few more hours of shut-eye before beginning the annoyingly slow process of breakfast and breaking camp.  I'm embarrassed to say this still takes me a solid 90 minutes or so, including multiple morning bathroom trips, filtering more water for the day, and just getting all my shit together.
But eventually, perhaps around 7 or 8 am, I was on the trail.  Taking a fork off the Phelps trail almost immediately onto Shorey's Shortcut.  Shorey's Shortcut is a bit infamous in this neck of the woods for being not so much a helpful work-around for any particular itinerary but more of a giant, strenuous PUD (pointless up-and-down).  
I don't think that's quite fair.  In my current case (going from Slant Rock to Basin), this route was demonstrably shorter than going around past the Haystack spur.  But it is indeed 700 vertical feet of rock scrambling upwards, followed by 300 vertical feet of rock scrambling downwards. You finish Shorey's Shortcut higher above the valley and closer to your goal than when you started (necessarily, I suppose).  But boy was there a lot of unnecessary ill will involved.
From there en route to Basin, you are rewarded immediately with another 700 feet of relentless up, scrambling over rocks and muddy rooty slopes, on towards the summit ridge.  This was a rugged, slow and strenuous beginning, to a rugged, slow and strenuous day along the Great Range.
As if to add insult to injury, just prior to reaching the summit ridge, an exceptionally athletic man passed me by on the trail.  He was a trail runner, seemingly a different species from us normal hikers. He was very tall and his long legs seemed to amble effortlessly over rock ledges and muddy slopes.  No hands involved. Granted, I am a much faster hiker with less weight on my back. But this seemed downright superhuman.
Onto the Great Range with Basin Mountain (#13)
Soon I had gained the summit ridge, with a bit less than a quarter-mile, mostly flat, until the final summit push.  The trail was wet, muddy and buggy. The thick boreal growth on either side made the air along the trail thick and stagnant.  This was another theme of the day…muddy, hot, dank, boreal thicket. The Great Range during a heatwave in June!
And then I came to the summit out-cropping and all was forgiven.  Standing 4827' feet above sea level, on the 9th tallest peak in the Adirondacks, I had a commanding view of all the highest peaks: Marcy, Skylight, Haystack, Algonquin, and—way off in the distance—Whiteface.  The morning sun was still far from its zenith and the air was breezy and pleasant. What a great start to the day!
Basin is a pretty underrated high peak.  It doesn't have the dramatic slides of Gothics visible from many vantage points.  And its name is pretty boring. It is buried deeeep in the wilderness, and so not very easy to get to.  And sandwiched between Haystack and Saddleback, along a ridgeline full of Adirondack Greatest Hits, it just never seems to command much attention.  But boy is the view from the summit great—you get to see all the other attention-grabbing peaks from a close vantage point. And as you make your way south along the range, you discover that its namesake basin is actually a pretty dramatic feature of the already dramatic Great Range landscape.  
Notes on the Great Range
I ambled over a small sub-peak of Basin and then descended roughly 500 vertical feet into the col between Basin and Saddleback.  This was a tricky descent that seemed to be somehow more taxing on my arms than my legs, as I reached for roots and rock ledges to aid in the steep and muddy scramble.
Traversing the Dix Range in October was a fun round-robin of high-peak after high-peak.  They just seemed to come so easy: South Dix, Grace, Hough. Sure, it was a long day, but entirely manageable.
The Great Range, in contrast, is something else entirely.  When you're not climbing steep unrelenting scrambles, you're descending equally steep and unrelenting scrambles.  And when you're not doing either of those things you're in a local depression that is swampier and buggier than anything lower down in the valley, negotiating deep pools of mud and hopping from rock to wobbly log to slippery root.  The trail is heavily eroded, with muddy steep sections that were likely a lot easier to ascend or descend 10 or 15 years ago. It never. Lets. Up.
Add to that a full 35 lb pack and a heatwave, and already the day was wearing on me.  To top it all off, this was still well over a year before I finally bought myself a decent pair of trekking poles, which really do dramatically improve the downhill experience.
Adirondack miles come in all sorts of shapes and sizes.  Lake Road and the Van Hoevenberg trail feel, at times, as easy as walking down a sidewalk.  But the miles along the Great Range and slow and taxing.  They demand your time, effort and respect!
The Ledges of Saddleback (#14)
And then I came to it.  The infamous ledges of Saddleback.  I had heard the worst: a highly exposed scramble over large and somewhat featureless rock ledges.
I think the internets have overhyped this particular section of the trail.  Yes, it's a pretty intense scramble, and you're high over the valley. But I never felt I was in a "one wrong move and I slide to my death" situation.  That said, I do tend to be quite agnostic towards exposed heights.
I've also read people commenting on these ledges with remarks like "thank goodness I'm 6'2" or, "I'd never attempt that with a full pack".  For the record, I am 5'5, on a good day, and had a tent, filled bear cannister, and 3.5 liters of water on my back.  It was entirely manageable.
Halfway up this scramble, I caught up with the Quebecois women from Slant Rock.  They too had full packs and were paused at a particularly tricky section. Now they looked somewhat relieved to see me, and I can say the feeling was definitely mutual.  The three of us powered up the remaining few ledges, and I felt very thankful to have company for this experience.
Having gained the last ledge, I paused to look back down at where I had come from.  This was the first of two key moments that day when I was glad I was doing the range west-to-east, and not the other way around.  If you do this in winter, please for the love of God, bring crampons.
I arrived at the summit of Saddleback, running into another solo hiker and three younger folks from Quebec.  The pair of women from earlier had continued on without stopping for long. I chatted with the solo guy and learned he was a fellow aspiring 46er who had recently bought a place in Schroon Lake.  Me, him, the three younger Quebecois and the pair of women would repeatedly run into each other at various points that day. I was also passed by a few other seemingly Olympic-caliber trail runners, who strode effortlessly over rock ledges and muddy root patches.  And I would not see any of them a second time that day.
From Saddleback's summit the views were nearly as spectacular as Basin… you're not quite as up-close-and-personal with Haystack and Skylight and Marcy.  But you get Basin's dramatic southerly reliefs. Which is pretty excellent compensation.
Gothics (#15) and the Cable Route
After another muddy ridgeline along the summit of saddleback, and popping up to the other high point of the "saddle", I again dropped steeply and strenuously into the col between Saddleback and Gothics.  I got a great view of the route up Gothics from here which needless to say looked impressively steep.
And then I came to the famous cables of Gothics.  Here I honestly think the DEC is kind of screwing around with people, because some of the steepest sections don't have cables, while some less-scary parts do.  Alas, I know not their logic.
That said, the cables are helpful.  I wasn't quite fit enough to simply march up the smooth rock face grabbing the cable and pulling, step after step.  But I did manage to march upwards in fits and starts. Stopping to pant and sweat and catch my breath. Did I mention it was a heatwave?  Let the record show I'm not necessarily pathetic.
The cables were more or less a convenience feature heading uphill.  But I could imagine them being a huge relief heading downhill.  Thus the second point that day I was glad I was heading Northeast, and not Southwest.
The summit of Gothics was a fine view, but not nearly as exciting as the view looking at Gothics.  Such is the tragedy of being one of the coolest mountains around.
Armstrong (#16) and Upper Wolfjaw (#17)
A pressed on from Gothics, dropping off the summit ridge and towards Armstrong.  Armstrong is one of the least prominent official high peaks, just 100 or so feet up from its "key col" with Gothics.  But this being the Great Range, and me being exhausted and sweating and just drained of energy, it was still a slog.  I was losing steam. I sat atop Armstrong, took off my boots, and gave myself a solid 20 minutes to just veg out and enjoy the breeze.  The solo American guy from before eventually joined me.
Then it was down and up to Upper Wolfjaw, which sadly didn't have much of a view.  Even more sad, it had a not-so-tiny secondary peak (honestly more prominent than Armstrong), followed by a steep, unrelenting, scrambling descent 600 vertical feet into the Wolfjaws col (Wolf-throat?).
The col was a major intersection, with trails to both peaks as well as both the John's Brook Valley and onto AMR land to the south.  My original plan was to drop my pack and head up the 600 vertical feet to Lower Wolf Jaw. But I was nearly out of water and exhausted, and just decided to come back on a fall day to snag that one.  Honestly, I should have just sat in the col for 30 minutes and gotten some sugar into my system to push up there. But I lacked the will power and it was just so darn hot and humid.  I fought the Great Range, and the Great Range won.
I descended 1000+ feet into the John's Brook Valley, past a massive new slide that had opened up on the Wolfjaws after Hurricane Irene.
A restive night at the Wolfjaws lean-to
Then I came to the campsite at Wolfjaws lean-to.  The trio of young Quebecois campers had set up tents, and were swimming in the nearby stream.  An American couple had set up tents in the lean-to—technically not allowed, but it was pretty intensely buggy at this campsite, so I totally get it.  I pitched my tent near all these folks and began to decompress and make dinner. I had only traveled perhaps 6 or 7 miles that day, but they were Great Range miles that took a solid 11 hours and nearly all my energy.
That night was not so restful.  The night before had been clear and crisp, at 3500 feet.  But this night I was down below 2400 feet, and the air was moist and thick.  The heatwave was at its zenith, and I slept atop my sleeping bag, rather than in or under it.  I was in just my underwear, and would have strongly preferred cowboy camping, but for the bugs and a light drizzle. The tent was a heat trap.
To make matters worse, a couple arrived late in the night, headlamps blazing.  They set up camp and their sleeping pads with the aid of a motorized air pump—somehow louder than any vacuum cleaner.  Who does that!?
Needless to say, I am not a huge fan of the Wolfjaws lean-to.  It's in an unremarkable, muddy, buggy stretch of forest. It's evidently crowded.  And yeah. Just not awesome.
The next morning I hiked out the few easy miles from my lean-to to the Garden Parking lot.  It was an intense few days with a lot of vertical but six solid high peaks were under my built and the views were pretty amazing.  I left Lower Wolf Jaw for another day, but that wasn't a huge deal. I kind of wanted to experience the Great Range—even a small portion of it—in better weather anyways.